Well, exciting news for the blog- my family has grown! Little baby girl was born this past Monday, a good month ahead of schedule. She's a cheeky girl, this one. All the same, my husband and I are crazy about her and doing well juggling a newborn, 4-year-old, and an overprotective dog. My husband has started a blog to share his adventures and mishaps as a newly-minted stay at home dad-
57 Ways to Screw up my Children
. It's a fun read, especially seeing our random conversations captured. That's his baby, and I'm not going to direct any of its content, but at about 2ish something am last night, I definitely got the idea for a blog post and wasn't going to make him write it. Hence this guy- a shift from my normal recipes and crafts. Enjoy. ;)
So a perfectly natural and assumed part of having a baby is that you are going to be up through the night. A lot. You will get tired and it will be harder sometimes than others. You know this going in, especially with baby #2, but that doesn't mean that you are any more functional for that knowledge and preparedness. Cue 2-something am last night, where I was reminded that effective communication between two sleep deprived adults is hard. Set a screaming baby in the room, and suddenly buttons are pressed all over and you find yourself experiencing some more animalistic feelings. Let me set a tableau for you that I'm sure goes on in any family with a newborn, fully aware of my feminine hyperbole:
Parent 1: Wakes up. Blinks and stares at crying baby.
Parent 2: Wakes up. Stares at bedroom wall in a daze, sitting on edge of bed.
Baby: Cries.
Parent 1: Looks over at baby, looks at Parent 2, points at baby.
Parent 2: Stares at Parent 1 in a daze.
Parent 1: Points more emphatically at crying baby.
Baby: Crying, turning pink.
Parent 2: Picks up crying baby, begins to adjust swaddle.
Parent 1: For unknown reason, displeased at this action by Parent 2. Puts hands on hips.
Parent 2: Stares at Parent 1 in a now confused daze. Snuggles baby.
Baby: Still crying.
Parent 1: Pulls hair in confused exasperation
Parent 2: Resorts to primal gestures and expressions. Bares teeth.
Parent 1: Responds by batting air with clawed hands.
Parent 2: Huffs and walks out of room with baby; goes to nursery.
Parent 1: Follows closely.
Baby: Cries louder.
At this stage, both parents and the baby are all operating on instinct and that little stub at the base of the brain, while the "smart" part of the brain is still fast asleep. Luckily, swaddling has become an instinctual skill for both parents, so Parent 2 is able to swaddle the baby without trouble, performing the actions almost automatically. While a useful skill, it does not further effective communication between the two parents. While they are more awake now, and begin to use their words instead of beast-like gestures, those words don't make much sense and are drowned out by baby cries, and furthermore lead to emotional sensitivities because even the most basic, non-argumentative comments turn into threats when shouted. Let's continue our scene:
Parent 1: I need to nurse-
Baby: Cries.
Parent 2: WHAT?!
Parent 1, affronted: Don't yell at me! I was just saying-
Baby: Cries
Parent 2: I'M NOT YELLING! I JUST CAN'T HEAR YOU OVER THE-
Baby: Howls
Parent 1: WELL IT FEELS LIKE YOU'RE YELLING AT ME.
Parent 2: FOR THE LOVE OF... WHAT DO YOU NEED?
Parent 1: I KNEW YOU WERE YELLING AT ME! JUST GIVE ME-
Baby: Cries, face turning red
Parent 2: WHAT? GIVE YOU WHAT?
Parent 1: OMG JUST GIVE ME-
Baby: Turns into a demon; cries more
Parent 2: I. CAN'T. HEAR. YOU. WHAT DO YOU-
Baby: Cries
Parent 1: THE BABY! THE FREAKING BABY!
Parent 2: NO NEED TO BE UPSET!
Parent 1: OMG I HATE LIFE!
At this point, a basic message (give me the baby so I can nurse her) has finally been conveyed, though with battered feelings and irrational responses peppered along the way. Parent 1 nurses, the baby magically turns calm, and both parents go back to bed. At this point, the helpful frontal cortex switches on in both parents, now that it is no longer needed.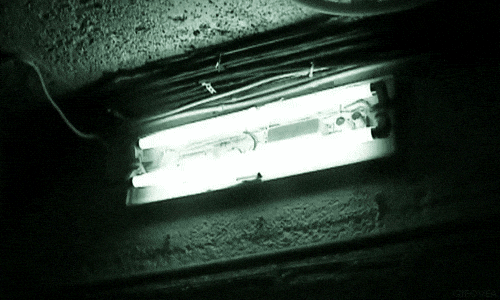 This leads to the next phase of helpful nighttime thinking: laying in bed and making up mental lists for the next day. These lists feel Very Important and are impossible to squash at the time. However, they are deceptive.
List, as perceived by sleep-deprived parent lying awake in bed at 2:30 am:
Thing to schedule tomorrow
Bills
Useful question to ask the doctor
Very Important Stuff
Apologize to other parent
List, as actually thought by sleep-deprived parent lying awake in bed at 2:30 am:
I need to sprinkle the dog tomorrow
George Washington
Hieroglyphics (not actual thought)
It is very useful for society to have manhole covers
I love that baby
Thankfully, the only item recalled from either list in the morning is that that baby is adored and loved by both parents.